(Sorry, I'm a shameless Star Wars fan...)
My girlfriend and I were discussing our relief at Christmas being over yesterday. We made the best of it with our children, but we're ready to pack the decorations away and start fresh. My friend has faced enormous difficulties this year: moving to a new place, having her husband deploy and then losing her baby a few days before Christmas, all while trying to make it a joyful season for her other three kids. She has weathered these trials with incredible grace, however, and her faith in God is strong. Still, it's no wonder that she's ready for the New Year and I have to admit, I'm right there with her.
There's something invigorating about sweeping out the old, ushering in the new, setting goals, looking forward to the Fall...
In the spirit of the new year and starting afresh, I'm undertaking an exercise that I have yet to make work in my twenty-something years: Day Planning. I bought a fairly simple Moleskine day planner about a week ago and have been using the baby's naptime to fill it out. I officially have all my meals planned through the end of January!!! I also have my gym days outlined, my Couch to 5K program noted both there and on the app on my phone (so convenient!). I'm determined to make this work for me this time. I'm not an organized person by nature but I've found that making schedules and planning meals actually does work for me so....here goes nothing..
I feel like all I've been talking about lately is organizing my life....
Let's change the subject entirely.
One of the fun things about postpartum is having to get a new wardrobe. Fortunately I'm roughly the same size that I was before I got pregnant, but I was in Nursing school for a year and a half so my wardrobe was 80% scrubs, 5% dress clothes and 15% yoga pants/hoodies. I went straight from that into maternity clothes which left my closet pretty unwearable on the other end.
When it comes to fashion, I'm very inspired by French women who can put together any number of outfits from a handful of classic pieces. My lifelong goal when it comes to clothing is to be able to do this, however I have to say I'm nowhere near reaching that. I blame this entirely on Anthropologie, J Crew and Ann Taylor Loft for tempting me with pretty things and incredible sales. In my defense, I no longer just buy the clearance t-shirts at Target in every color because "they were only 3 bucks each!". I've gotten a lot better at figuring out what I need and spending as much time as it takes to find that item so I don't spend a ton of money on 5 different shirts that sort of look like what I want. It takes discipline. (I don't have much of that).
My husband bought me a gorgeous plaid skirt from Anthropologie for my birthday and I've been on a quest to find the perfect blouse for it ever since. I finally found it (and a classic white blouse at J Crew) this week.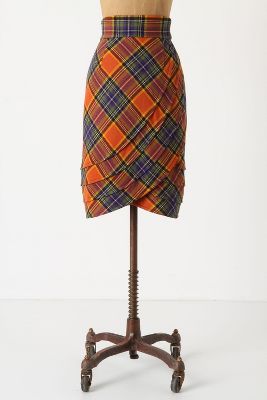 Isn't this skirt gorgeous??
...and then there was this blouse:
I've been fighting shoe lust since coming to my parent's (thankfully, there are no decent shoe stores back home but coming to the city is even more dangerous as a result..) and I even walked out of the mall without the pair of gorgeous Born booties I tried on yesterday. My bank account thanks me :).
I have a boot problem. Just ask my husband.
It's just another reason I'll never be like that elusive Frenchwoman.
On that note, I'll leave you with the greatest book I've read this year for all of you ladies who are looking for a little
je ne sais quoi of your own: